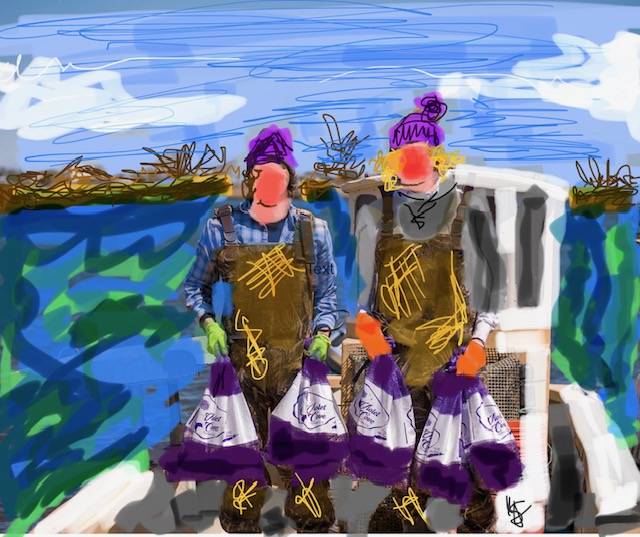 Susan Wicks comes from a family of baymen, boat builders, sea captains and the occasional rumrunner. After a Hall of Fame basketball career and stint as a sports ambassador for the U.S. State Department, Sue came home to Long Island to grow oysters.
You read that right: The former standout forward with the New York Liberty now happily spends her days raising sustainably grown Violet Cove Oysters on an idyllic aquatic farm.
And get this: Sue's Violet Cove Oysters can be shipped directly from the farm, to you. Order a couple of dozen today and they'll be at your door tomorrow, packed fresh from the sea. Pop open a bottle of rose to wash them down for an instant summer party.
Use code WHTNOW to score a free oyster knife and shucking instructions with your first order.
✦
ISSUE 3 MAY 23 2023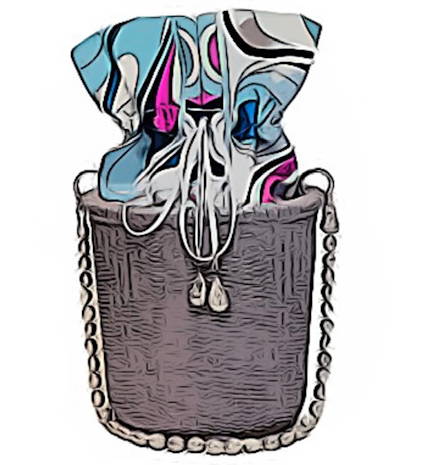 On the island of Nantucket, baskets are a thing. And not a new thing.
In the second half of the nineteenth century, the U.S. government deployed lightships — essentially floating lighthouses — to mark dangerous shoal waters of Cape Cod. Not too surprisingly, the seamen manning these vessels found themselves with lots of downtime. To fill the hours, they began weaving distinctive rattan baskets which they then sold in island shops once they returned to shore. Learn more here.
Pretty soon, the government got wise to the sailors' side hustle and put the kibosh on ship-board weaving. So the making of lightship baskets returned to shore, where it continues to thrive today thanks to island artisans like Christina Rose Manca.
Combining her passion for Nantucket and all things crafty, Christina founded The Manca Studio where she makes lightship basket purses, furniture, and lighting with a distinctly modern vibe.
Take a classic Nantucket lightship basket, add a vintage Hermes or Pucci scarf, maybe some faux fur and tassels and voila — your handbag is work of art.
Click here and use the code WHTNOW for 5% off your purchase.
✦
ISSUE 2 MAY 16 2023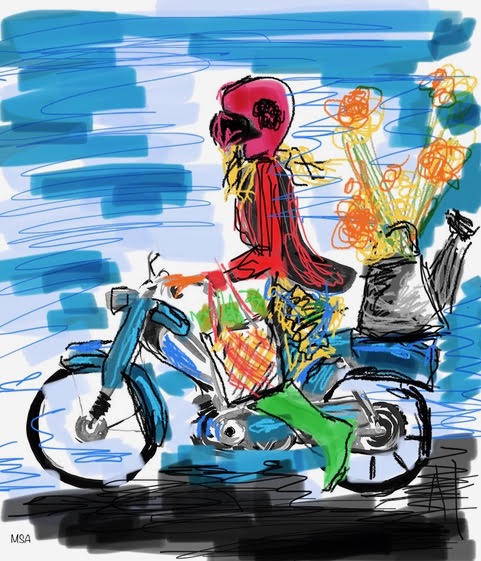 Got dirt? If so, you can farm. Just ask Lauri Kranz, the garden guru behind Edible Gardens L.A.
Singer-songwriter Kranz came to gardening almost by accident. When her son's kindergarten asked for parent volunteers to oversee the student garden, Kranz answered the call. Pretty soon, she was hooked. And oh how her garden grew! Impressed by the bounty of the school's harvest, fellow parents soon began asking Kranz for help setting up their own vegetable plots and Edible Gardens L.A. was born.
In addition to creating gardens for schools, restaurants, and private clients, Kranz and her husband and partner Dean Kuipers immersed themselves in the area farming community. When the pandemic shut down local farmers' markets, Kranz and Kuipers came to the growers' rescue, shuttling fresh produce directly from the farms to buyers' homes. Next, as interest in urban farming continued to bloom, Kranz and Kuipers shared their horticultural secrets in a book, A Garden Can be Anywhere.
And now, they've opened a brick-and-mortar HQ, the Edible Gardens LA Home Farm Shop to empower people to make healthier choices and seek out new avenues of beauty in their lives.
✦
ISSUE 1 MAY 2023